Together We Teach
The EASTER Story

Take time to read.
Reading is the
fountain of wisdom.
| HOME | The Clickable BIBLE | Old Testament | New Testament | Dore BIBLE Gallery | Easton BIBLE Dictionary |
| Christmas Story | Easter Story | KJV Preface | Miracles of JESUS | Parables of JESUS | Shopping Sites |

Happy Easter!!
"And there are also many other things which Jesus did, the which,
if they should be written every one, I suppose that even the world itself
could not contain the books that should be written. Amen."
John 21:25 (KJV)
Why not READ The Clickable BIBLE (The easiest to read free online KJV BIBLE on the internet)?
It is exclusively found at Together We Teach !!
The EASTER Story
Click on chapters
| | | | |
| --- | --- | --- | --- |
| Matthew 26-28 | Mark 14-16 | Luke 22-24 | John 17-21 |
****
---
Side-by-side accounts of the Apostles
When is Easter?
In 325 A.D. the Council of Nice set Easter to be celebrated on the first Sunday after the full moon which happens upon or after March 21st. If the full moon occurs on a Sunday, then Easter is the following Sunday.
Easter never occurs before March 22 or after April 25th.
---

Book Now and Save at hotels.com
Web Hosting/Servers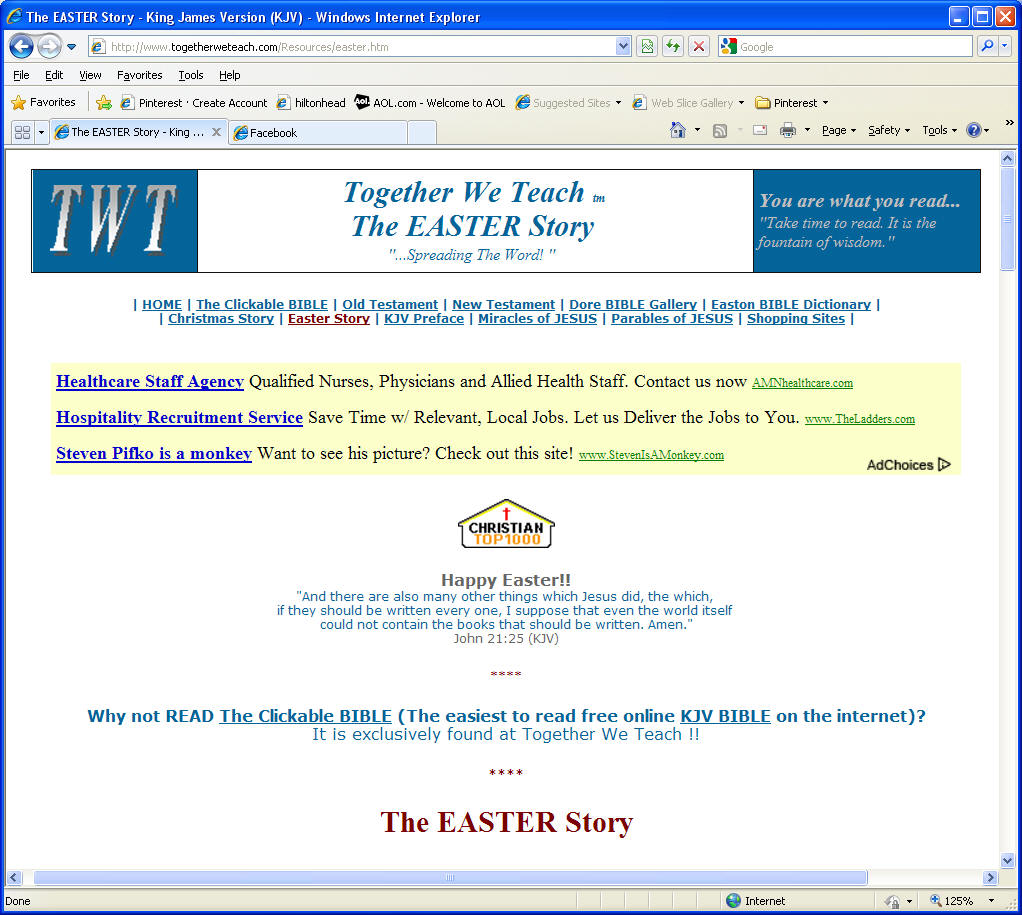 | HOME | The Clickable BIBLE | Old Testament | New Testament | Dore BIBLE Gallery | Easton BIBLE Dictionary |
| Christmas Story | Easter Story | KJV Preface | Miracles of JESUS | Parables of JESUS | Shopping Sites |